Free improvisations mp3 – free sheet music – free MIDI play along files.
The Magic Flute is a real instrument. This means that you can learn to play tunes. But that's not all – you can take your new musical experience much further than that, very quickly, by improvising.
Improvisation is the ability to create your own music on the spot, instantly. As you play along to  well-known tunes you can 'Jazz them up'. This will give you the confidence to compose your own tunes in the near future – maybe even today as you are reading this. It is a great way to express yourself. And if you use the right scales almost any person can make nice music. Very young children can become familiar with music. You can start to make music on the Magic Flute from 4 years old. It is very good for mental development.   And YOU TOO CAN DO IT!
How? We will show you the way.
So you can go in two directions.
1.  We have a very nice collection of free sheet music, most have play along mp3 or midifiles.
2.  We have a collection of play-along mp3 files. Use them and  improvise your own melodies on top of these tracks.
1 – Sheet Music (click on the links)
Scale 1 Simple:
Simple 1 (Boer er ligt een kip in het water – We will rock you – Mary had a little lamb – Tune 16 & 28)
Simple 2 (Super Trooper – This land is your land – Every breath you take)
Simple 3 (Money money money – Country roads – No limits – Pease porridge hot)
Simple 4 (Ode to Joy – London Bridge – Tune 40)
Simple 5 (Sonata – Altijd is Kortjakje ziek – Advocaatje ging op reis)
Simple 6 (Oh when the Saints – The lion sleeps tonight)
Simple 7 (Kum ba yah – The Rose)
Simple 8 (Another brick in the wall – Bacchanale)
Simple 9 (Jingle bells – Twinkle, twinkle little star)
Simple 10 (Big big world – Owner of a lonely heart)
Scale 2 C Maj.:
Cmaj. 1 (Another brick in the wall, in D – Chariots of fire – Venus – Sunny)
Cmaj. 2 (Big big world, in C)
Cmaj. 3 (Lean on me)
Cmaj. 4 (Le Moulin)
Scale 3 Dm:
Dmin. 1 (For the love of a Princess, Highlander)
Dmin. 2 (Set the controls for the heart of the sun)
Dmin. 3 (Walking on the moon)
Scale 4 Blues 1 & 2:
Blues 1 & 2 (It's so easy)
Scale 6 Recorder Page:
Recorder (Andy Pandy – You are my sunshine – I saw three ships)
Scale 7 G Maj.:
Gmaj. 1 (Mad world – After the gold rush)
Gmaj. 2 (Close to you – Over the rainbow – Killing me softly – Nights in white satin – Summertime)
Gmaj. 3 (Nothing else matters)
Scale 9 Hava:
Hava
>>More sheet music for the Magic Flute – page 2<<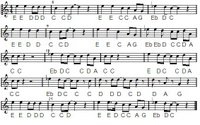 2 – Improvisation
Page: Anyone can improvise **Free mp3 playalong tracks**
3 – Play by ear
Page: New Scale – E Dorian