My name is Evelien Vrij and I am 23 years old
Up until I was seven years old I was healthy and like the rest of the kids in the neighborhood I just went to a regular school. Then I became ill. It started with nausea. In the morning I could not eat and had lots of hiccups. I also suffered from a lot of headaches.
Then the doctors discovered that I had a brain tumor, and they found a hemangioma in my right cheek. I had many operations. The most radical surgery was thirteen years ago in my brainstem. It turned out that the tumor in the brainstem was also a hemangioma.
Since this operation I have not been able to swallow properly, so I have to be fed via a tube. I have also lost the stimulus to cough, so I can not cough up my mucus. Therefore I have a cannula. By using this cannula I have overnight ventilation. During the day I am in an electric wheelchair. I have little feeling in my hands and feet because I also suffer from poly-neuropathy.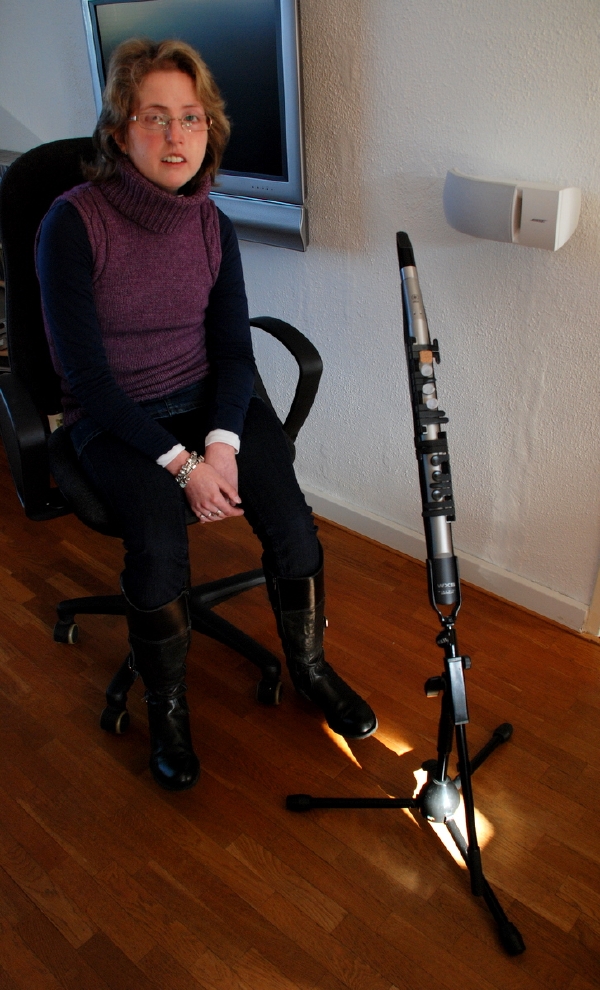 I started respiratory therapy when I was at high school. That's where I first came into contact with Ruud van der Wel. I really did enjoy playing the electric saxophone, but my fingers were always slipping off the keys. Then we discovered that we could use a mirror in front of me and now I can play a lot better because I can see in the mirror where the keys are.
I only play with my right hand because of problems with the feeling in my left hand, which means I can't play all the notes. But there are still enough songs that I can play. When I play, Ruud plays along on the guitar and that is very nice!
At this moment life goes quite well for me. Three mornings a week I attend an activity center in Spijkenisse. On Monday and Friday morning I work on the computer and on Wednesday I do crafts. I very much enjoy doing the mosaics.
I still play the saxophone. Every Sunday morning Ruud comes to my home to make some music with me. I play on the electronic sax and he plays on the guitar. When my parents had their 25th wedding anniversary I played at the celebration fest with Ruud and Karin. That was fun.