Open Sourcing: Metallophone for a Severely Disabled Child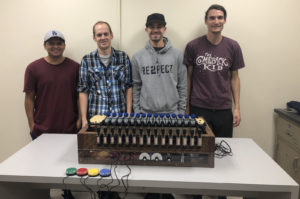 USU Senior Design, Jacob Jewkes, Chet Pettingill, Beto Salas, Jaden Scott and My Breath My Music challenge you!
The purpose of this page is to provide clear instructions and examples of how to construct a metallophone that can be played by a severely disabled child. The team listed above designed and tested this system to ensure it can play the metallophone according to the requirements set by the team sponsor My Breath My Music. With the files listed here, those with DIY skills can build their own adapted metallophone.
Files: Metallophone Documentation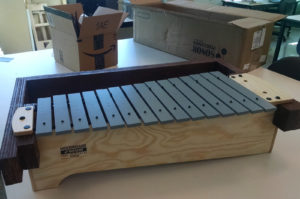 A good sounding instrument is important!
Sonor TAKM10 Tenor-Alto Metallophone
How it began
We published this text on a crowdfunding website:
Yrsa would love to play a real musical instrument herself, but for her, choosing something in the music store is not an option. The musical instruments there are not suitable….But we have a very cool plan!
We want to create a new musical instrument.This is a partnership project in the Netherlands, between My Breath My Music and the EMB foundation. (EMB= Severe Multiple Disabilities)
Making music yourself is a big enjoyment for many but Yrsa cannot play a conventional instrument! That is because there are no real musical instruments created yet for children like Yrsa. "What about special instruments like the Magic Flute then?" you ask. Unfortunately, Yrsa cannot play that either. She has too little control.
That is not fair, so we accepted the challenge to build an instrument for Yrsa!
We will do this in collaboration with a number of very smart mechanical engineering students from Utah State University (USU) and Dixon Nielson their Research Development Director. They are going to make a special, playable xylophone for Yrsa.
We have worked with USU for some time. They convert our ideas into instruments that are usable for EMB students. The USU students go to work for a year and develop a control box with smart software that ensures all children who can operate a switch can use it to play a specific instrument. (For insiders: step scanning, auto scanning, random play, note for note, etc.). After this year Yrsa will receive her instrument.
The costs for this project is 1800 euros. These includes all material costs. The student labour is free of charge.
This project will be open source and published on the website 
www.mybreathmymusic.com
. This way people around the world can build these instruments themselves.
Going forward our foundation hopes to produce more instruments so that other EMB children can enjoy the great feeling that comes from making music.
The first serious test 6th January 2019 .
On Stage!  Thank you  Yrsa and Yasho!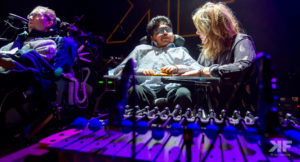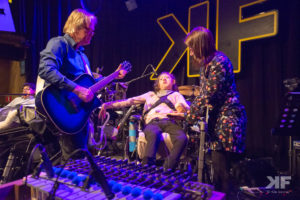 The Utah State University  Team.
Thank you. You are wonderful!