Eye
P
lay
C
hords
ist kostenlose M
usik
software für Windows-PC.
Purpose: This program allows any child in the class to participate in music lessons.
EyePlayChords is a musical instrument for people with severe disabilities who can control their computer screen with Eye-gaze, Head-gaze or Mouse. It is a tool for playing chords and creating chords. A chord, simply, is any combination of three or more notes.
Setting up EyePlayChords is very simple:
Step 1 – Download and install our free software SetupEyePlayChords
Step 2 – Open "C Chords.midikeys.xml" from the FILE drop down menu
Step 3 – Start experimenting with your mouse cursor
The whole class plays together.
Our software aims to ensure that everyone can actively participate during the music lesson. We would like to introduce you to a teaching method that can help you to reach this goal: Figurenotes. Start a whole classroom using Figurenotes and let them progress through their reading at their own pace, while letting the whole class play together. https://figurenotes.org/chords/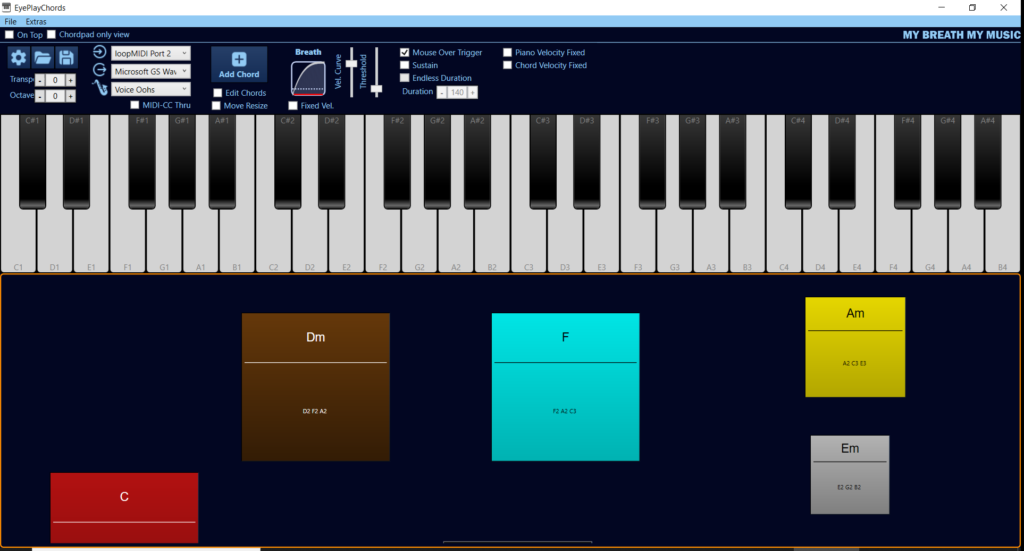 Main screen EyePlayChords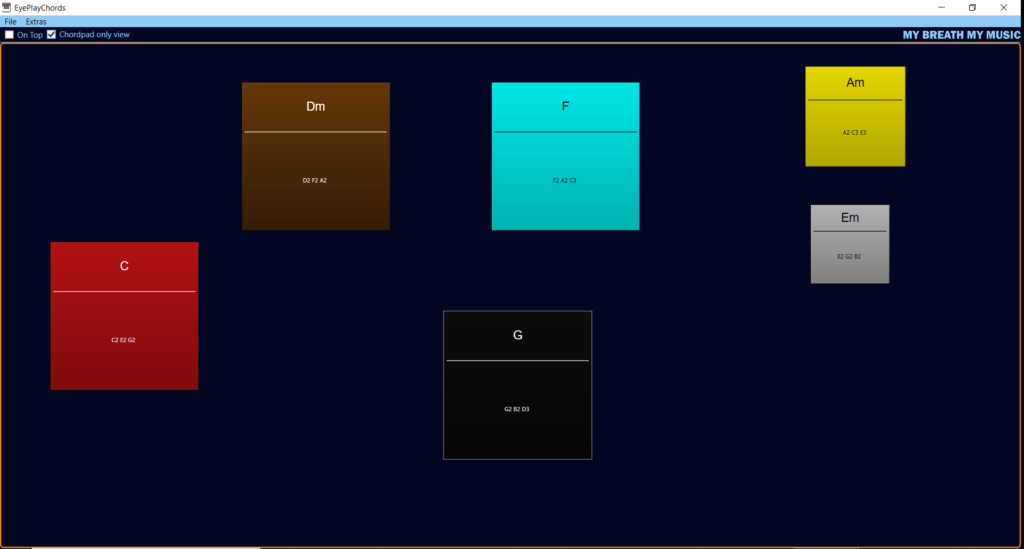 Chordpad only view

Endless possibilities
There are tree ways to play the chords.
with a Mouse
with an Eye Tracker (Tobii etc)
with a Head Tracker (Headmouse etc)
You trigger the notes in different ways.
hover the mouse pointer over the chord pads
click on the chord pads
use a breath controller to trigger the chord pads
There is a wide range of instrument sounds that are available to use.
you can use the internal Microsoft wavetable synth that comes with windows
with a virtual MIDI cable you can connect EyePlayChords to any music software that uses MIDI protocol (Reason, Kontakt, Ableton live, Respiro, Camelot)
with a USB MIDI interface you can trigger external music devices such as synthesizers, sound modules, samplers and keyboards
You can select* different MODES
Mouse over trigger
Sustain
Endless duration*If you don't select anything, the Chord pad will be triggered with a left mouse click.
The duration setting influence the length of a note.
[embedyt] https://youtu.be/xU3UKOGqMaQ[/embedyt]
Tobias Kozlowski demos his software.
You can also change some setting for the on screen keyboard.
Select Extra from the menu bar to change key sizes
Expression!
The Chord pads have different velocity values. The notes are loud at the top and progressively softer towards the bottom of the Chord pad. But also you can trigger the pads using a Breath Controller. EyePlay Chords listens to breath control!
Important: turn off the fix velocity
Options (icon left corner)
use the piano setting to change note duration of the Piano keys
change the velocity curve
By default your chords will be stored in a documents folder.
This program has some other features, you will have to explore yourself.
Note: We are aware that the editing and selecting in this program is to difficult for some of the users, so they need an extra hand to set up for a performance. In the future we want to add extra accessibility for disabled players so they can control the whole program them self.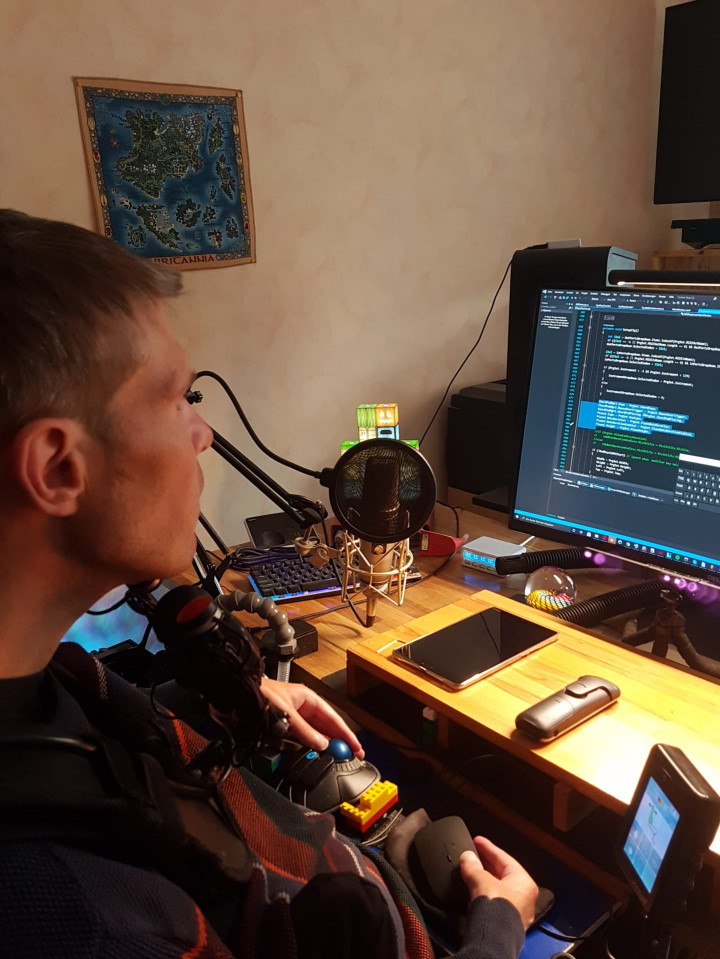 This software is conceived and developed by for My Breath My Music by Tobias Kozlowski.